RV GPS and Travel Planner
Easy to read 7" display
Customized RV routing¹ for lower 48 states and Canada
America's RV Parks & Services directory
RV trip planning and sharing
Lifetime map² and traffic³ updates
Wireless backup camera compatible

Civilization on Demand
RV 760LMT, our first navigator for the RV lifestyle, lets you enjoy the freedom of the open road with the convenience of traveling with a helpful guide. RV 760LMT guides with a big, easy to read 7" display. Loud speakers deliver clearly spoken, turn-by-turn directions.
Customized RV Routing
RV 760LMT is preloaded with detailed maps for the U.S. and Canada that also include RV-related restrictions, such as bridge heights and related information for most major roads and highways. Just enter your vehicle profile information (customizable by height, weight, length and width¹) and find routes suitable for your RV.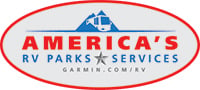 America's RV Parks & Services Directory
Only RV 760LMT has America's RV Parks & Services Directory. This comprehensive listing of RV parks and campgrounds contains nearly 20,000 sites in the U.S. and Canada, including national and state parks and privately owned campgrounds. America's RV Parks & Services Directory lets you search by preferred amenities – such as pet-friendly, on-site laundry, electric hookups – so you can easily find what you want, away from home.
The directory also includes more than 14,000 RV-specific service locations, including towing, tire shops, truck stops and repairs.
Driving Guidance You See and Hear
Active Lane Guidance with voice prompts prepares you to drive through an exit or interchange with confidence. As you approach, an animated model uses brightly colored arrows to indicate the proper lane needed for your route; a friendly voice offers additional help. photoReal junction view realistically displays junctions and interchanges, including the surrounding landscape and road signs along your route.
RV Trip Planning and Sharing
Plan your next RV trip with BaseCamp™. You can create routes along specific roads and search for points of interest, including local attractions, restaurants and fuel stops. Then, upload your pre-planned trip to your RV 760LMT and follow along for a stress-free ride.
Garmin Adventures, powered by BaseCamp, is a free, interactive way to record and share your trips. With Garmin Adventures, you can combine routes, waypoints, geotagged photos, YouTube® videos and more into an adventure that you share online. Garmin Adventures also allows you to rate your trips, read reviews and download routes shared by fellow RVers.
Includes Lifetime Map and Traffic Updates
RV 760LMT features free maps² and updates for the useful life of your device, so routes can reflect the most up-to-date maps, points of interest, and America's RV Parks & Services directory information.
With the included combination power cable/traffic receiver, your RV 760LMT offers free traffic² information for the useful life of your device. RV 760LMT can help you avoid traffic jams and find the detours you need to keep moving.
The Power of Your Voice
RV 760LMT offers the convenience of voice-activated navigation. Speak and your device responds to your commands. Your hands can remain on the wheel. Of course, you can also navigate using the touchscreen interface.
Up Ahead Services Information
No matter where you are, always know what's close. Up Ahead is a constant stream of nearby places – including restaurants, stores, hospitals and fuel stations – that appears alongside your driving map and updates as you move along your route.
Garmin Real Directions™ with Garmin Real Voice™
RV 760LMT redefines "spoken turn-by-turn directions" with Garmin Real Directions, easy-to-understand driving directions that guide like a friend, using recognizable landmarks, buildings and traffic lights. No more stress from trying to read street names. Garmin Real Voice is refined speech technology that sounds more like a natural, friendly voice. Garmin Real Directions and Garmin Real Voice are features that are only available in our GPS navigators.
Bluetooth® Compatible
Sync a compatible Bluetooth-enabled device, such as your smartphone, to RV 760LMT for hands-free calling through its integrated microphone and speaker. Safely stow your phone in a glove compartment, pocket or purse and still make and take calls.
Smartphone Link Compatible
While on the road, you can use your RV 760LMT to view detailed forecasts, current conditions and animated radar images plus receive severe weather alerts4.
It's possible with Smartphone Link, a free mobile app that connects RV 760LMT with your iPhone® or Android™ smartphone. Once paired, your RV 760LMT can use your phone's existing data plan4 to share information and to access Garmin Live Services4, useful real-time information, including weather. Garmin Live Services are free and available by subscription.
Wireless Backup Camera Compatible
Ease the stress of moving in reverse by connecting your RV 760 LMT to our BC 20 wireless backup camera (sold separately). Once connected, RV 760LMT conveniently displays the camera footage right on its big screen.
More Information at a Glance
RV 760LMT keeps your driving map onscreen at all times and additional information appears alongside. RV 760LMT displays speed limit, current speed and accurate time of arrival. With a quick glance, you can see the name of your current street. RV 760LMT also shows school zone warnings.
One-stop Device Management
Use Garmin Express to keep your RV 760LMT up-to-date. Garmin Express makes it easy to update maps and software, transfer favorites to and from devices, and install free custom vehicles and voices.
---
¹Not available in all areas. Entering your vehicle's profile characteristics does not guarantee your vehicle's characteristics will be accounted for in all route suggestions. Always defer to all posted road signs and road conditions.
²Lifetime Maps Terms & Conditions
³Lifetime Traffic Terms & Conditions
4User's data plan charges, if any, will apply. Contact your mobile service provider for more information about your service plan's data and roaming rates. Subscription may be required.